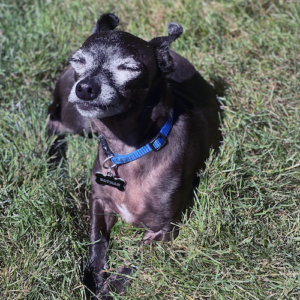 Batman
Batman was rescued from Merced, California in 2011, when he was just a few months old. He enjoyed many glorious years as an only child, before the addition of two human brothers turned his life upside down. When he is not trying to escape their loving embraces, he enjoys finding any spot of sunlight to bask in the heat. And although he is only six pounds, he takes great pride in protecting his family home. He considers scaring a family of three black bears from his back yard his biggest accomplishment to date.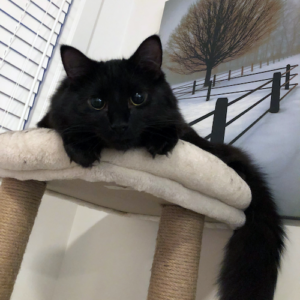 Goose
Goose got his name from the best movie ever – Top Gun. He joined Kris's family on Vancouver Island during the Covid lockdown as a birthday present for her son. He is the family's security patrol, office assistant, homework helper and entertainment. Not one to cuddle long, he spends his days marching around Kris's home office prepared to attack the printer at any sign of action or laying on the stairs waiting for her to come home from her days on the road. Never far away, he often sleeps on the chair next to her desk…the laziest office assistant ever.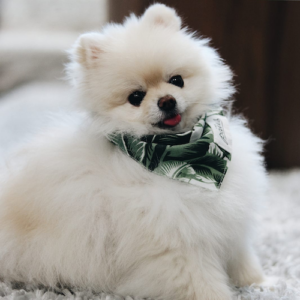 Odie
Odie was adopted into his furever home at a year old in 2019. Since then he's been loved and adored by everyone in his family - especially by his Grandma, Cynthia! When he's not jumping onto pillows, laps or pretty much anything soft on the ground, Odie loves to fetch all things regardless of shape or size though ping pong balls are his absolute favourite. During the week, he enjoys greeting customers at his furmama's store and napping to prepare for his post-work playtimes.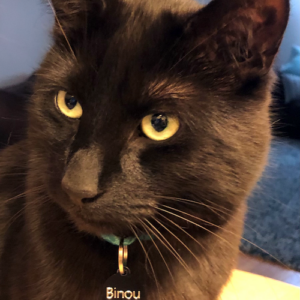 Binou
Binou is a 4-year-old male. He is part Main Coon and part Tuxedo Cat. Binou is the first kitten Melanie had purchased through a breeder and is considered as her "posh purchased cat" as every other cat companion of hers has been a rescue – including Binou's sister, Evee. Binou has always been a bit timid. He doesn't like to be picked up or cuddled unless its on his own terms. Which is usually in the early mornings when he can be found snuggling into his companion's neck purring like crazy. He is sleek, muscular, and fast, which makes him a great hunter. He takes great pride in bringing Melanie mice and rabbits (much to her dismay).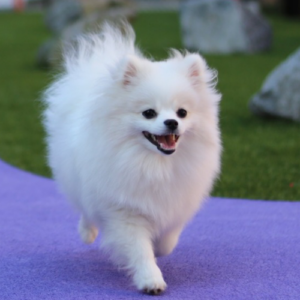 Gus
Gus is the newest addition to the Castellanes family and is an absolute furball of energy. He loves stealing socks and wrestling with his brother, Odie. He's always on the hunt for new smells and loves making new friends at the dog park. Gus is the youngest in a litter of 3, and loves doggy dates with his siblings Bananas & Tatata, and momma Huna.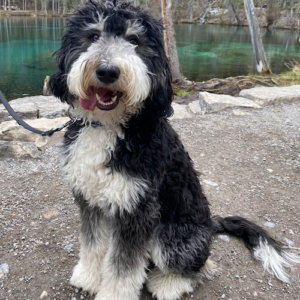 Rosie
Rosie joined the Trialto team of pups in November 2021. A native of Calgary, she loves nothing more than enjoying all 4 seasons with gusto. Boating in the summer, hiking in the spring and fall and rolling around in the snow all winter. You will often find Rosie glued to her owners or trying to play with every single dog and person she meets. One her favourite things is going for car rides to the mountains and the lake. She'll do anything to be pet and flops down on unsuspecting laps whenever possible.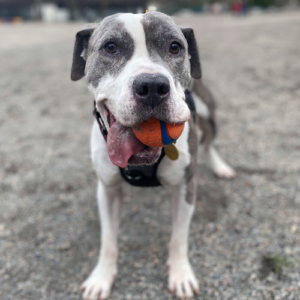 Caper
Caper Mackay Nugent AKA Captain Meatpaws, is 9 years young. He is a mix of American Pitbull Terrier, American Staffordshire terrier, Neapolitan Mastiff and Cane Corso. His favourite activities are swimming, chasing his chuck-it ball and napping on his humans lap. His favourite treats are dog suitable ice cream and cheese, not necessary at the same time. He is a cancer survivor and a gentle giant who will happily roll over for belly rubs.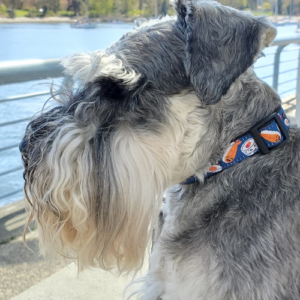 Hugo
Hugo became part of the Trialto family of pups in June 2020. His beginnings started up the inside coast of Vancouver Island in Campbell River, moving to Vancouver at 9 weeks old. He has embraced everything Vancouver and enjoys living near English Bay and Stanley Park, spending much of his walking time along the seawall and Coal Harbour. A special favorite is always Spanish Banks for low tide. He is an avid travelling companion and enjoys roadtrips with family. Hugo spends his regular days at the office surrounded by exceptional wines and the inspired conversations of the Trialto team.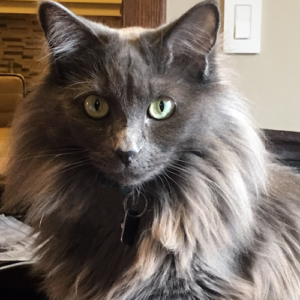 Evee
Evee is a rescue cat from the humane society. She is a 3-year-old female of an unknown long hair breed. The name she came with was Sweetness as she is a soft, gentle, and snuggly cat who is always very chatty, especially at breakfast time. True to cat behavior, she is very curious about all boxes and packages, she even tried to fit in my daughter's lunch bag. Both Evee & Binou can often be found helping out around the home office, sitting on the desk, curled up to the warmth of the computer, or just lounging around on the printer.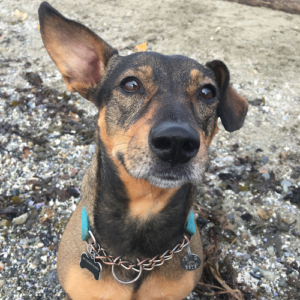 Pepperoni
Pepperoni was born on the streets of Northern California, this mutt toughed it out for almost a year before he was picked up by the pound. He was deemed too skittish to be adopted and was put on the euthanasian list. A rescue agency was able to swoop in and save him just in time! He was flown to Vancouver in where he met his furever family (who named him Pepperoni) and now lives in the lap of luxury, barking at squirrels (usually up the wrong tree), sleeping until 2:00pm, running like a possessed demon through the forests of North Vancouver and then demanding his dinner at exactly 6:00pm every night. He brings so much comedic relieve to his family and is very loved.